The RCF is all about giving our community an opportunity to give back to others in a way that is personally meaningful to them. We like to think of ourselves as an "incubator of good", with the majority of funds going to our flagship, The #GivingCards Project, as well as our other financially-related projects below.
Here are our current initiatives:
1. The #GivingCards Project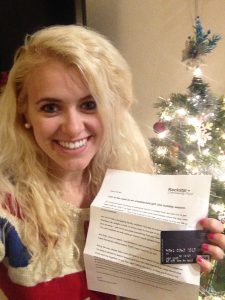 This team is led by Nate, who had been playing with the idea of turning the traditional charity model on its head, where instead of asking for money, we'd give you money to give away yourself. Here's how it works: we give everyone in our community a standing mission to go out and create unexpected joy in your own community for $20 or less. Our monthly subscribers provide the funds for the #GivingCard, but how you choose to use your time, money, and creativity is totally up to you. Every month we see dozens of unique, creative, personalized stories of all the ways you guys have decided to give back – it's always so inspiring to read!
To help you carry out your mission, we supply a limited number of #GivingCards (VISA $20 prepaid cards) each month. These are available to everyone on a first-come, first served basis. When you sign up to receive a card, we will send it to you in the mail that week, but only if you promise to do GOOD with it and then share the story with the rest of us. Simple as that!
See the results :)   |   Get involved   |   Support the project
2. #DebtDrop
This initiative is led, and inspired, by Melanie Lockert of DearDebt.com. She started taking $50 of her own money to help others pay off debts who are struggling, and we thought it was such a good idea that we not only started matching it, but made it one of our starting projects here! The Debt Drop project is set up to empower anyone (especially bloggers!) to surprise someone in their community with $50, no strings attached. We know it doesn't solve everyone's problems, but we like to think it gives them a little hope and reminds them that they're not alone in their journey.
Join us!   |   See the results :)   |   Support the project!
3. Our Emergency Fund
Every month we set aside a bit of money to quickly be able to help out in the event of an unforeseen situation in our community, like an illness, injury, sudden loss, or any other unexpected event that needs immediate attention. Our goal with the RCF is to be flexible enough to spread our support wherever needed, while also having the ability to act swiftly without any red tape – something this particular initiative is set up to excel at!
Nominate someone who needs our help!   |   See the results :)   |   Support the project!
---

---
Have an idea or project of your own?
We like to think of ourselves as an "incubator of good", and are always on the lookout for new ideas to support. If you or someone you know is doing a financially related project that makes a big difference in your community, let us know and we'll see if it makes sense to partner up!
Keep doing GOOD :)