Total GOOD done so far:
$12,651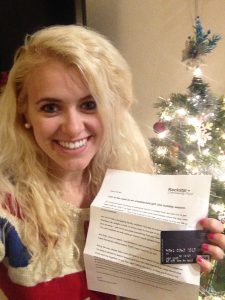 When we started talking about becoming an Incubator of Good here at the RCF, we needed a new project to officially kick it off.
Nate had been playing with the idea of turning the traditional charity model on its head, where instead of asking for money, we'd give you money to give away yourself, and after our initial test took off in a big way, we decided to make it our flagship project. Nate continues to lead the team today, and here's what The #GivingCards Project is about:
We provide a way to create unexpected joy in your own community for $20 or less. Our monthly subscribers provide the funds for the #GivingCard, but how you choose to use your time, money, and creativity when you get it is totally up to you. Every month we see dozens of unique, creative, personalized stories of all the ways you guys have decided to give back – it's always so inspiring to read!
To help you carry out your mission, we supply a limited number of #GivingCards (VISA $20 prepaid cards) as supplies last. These are available to everyone on a first-come, first served basis. When you sign up to receive a card, we will send it to you in the mail that week, and all we ask is that you promise to do GOOD with it and then share the story with the rest of us.
Simple as that!
See All Results | Get involved | Support the project :)
---

---
Our Awesome Partners:
Thanks to these organizations that have supported #GivingCards!
---

---